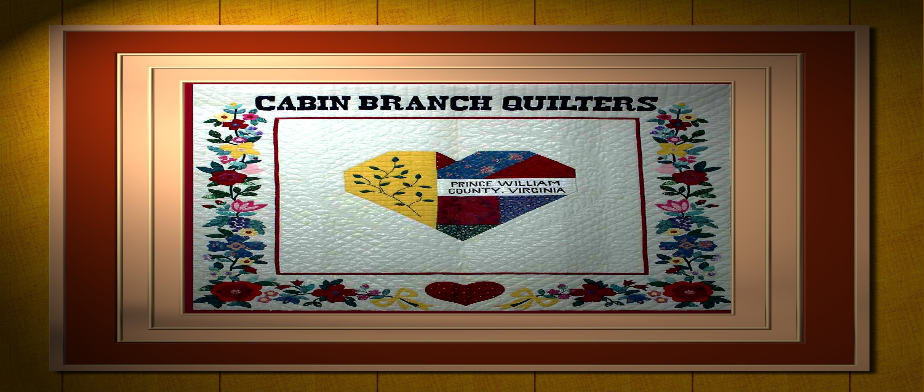 CBQ Home Events & Activities Community Annual Quilt Show News Letter & BOM Quilting Links Contact Us
Attention: Meetings are canceled IF Prince William County Schools are Closed
Letter From The President:
Where has the year gone? Winter seems to have snuck in a bit early to make up for our mild fall. Brrrr! What perfect weather for getting some quilting projects done! It's time to snuggle up with our projects, watch some holiday specials, spend quality moments with our families and friends, and prepare ourselves for next year's quilting adventures.
I don't know about you, but this year's resolution to finish more projects than I started really wasn't the best thought out plan. I might just spend the next few weeks coming up with a more creative way to justify my stash and my passion for trying new techniques. After all, it's all about the journey and not the destination!
If you haven't participated in a CBQ mini-retreat, please consider it. The Senior Center is only a hop away, if you forget something JoAnns, Hancocks, and G-Street are not too far away…well, home isn't too far either. Besides, quilters are the most generous people I've met and at these instructional gatherings sharing fabric, ideas, and notions just adds sparkle and pizzazz to our projects.
Remember, our December meeting is a week earlier than normal. I'm looking forward to seeing all of those Red & Green Holiday Quilts. I'll enjoy seeing them even if they aren't red and green. Just think, if you have your quilt done to share at the meeting, that's one less thing to be binding on the evening before the big day!
And one last thought. This is the perfect month to share your warmth with others. Why not start that caring quilt project you've been thinking about? Have a safe, healthy and happy holiday season!
Kathy McLaren
---
2006 Fall Retreat
We had a fun and productive Massanetta Springs fall retreat this year thanks to Carol Goe. Plans are underway for the 2006 Fall retreat at Massanetta Springs for Friday 0 November – noon Sunday 2 November. Final price will be dependent on the number attending, but it should be between $ 140 and $ 145 per person for double room occupancy. In order to reserve our space, a $25 deposit per person planning to attend is needed at the next guild meeting. Checks should be made out to CBQ. Please give your deposit to Jane Bruno at the November guild meeting .
---
Meeting Notices
General guild meetings will be held at Lake Ridge Baptist Church,12450 Clipper Drive, Woodbridge VA 22192 (in Thousand Oaks).
The next meeting will be held Monday, December 19, 2005 7:30pm at Lake Ridge Baptist Church,12450 Clipper Drive, Woodbridge VA 22192 (in Thousand Oaks).
Member of the Prince William County Arts Council
---
Directions to Meeting:
Lake Ridge Baptist Church is located on Clipper Drive which is off of Old Bridge Road in Lake Ridge.
It is past Tackett's Mill If you are coming from the Prince William Parkway (take the Parkway to Old Bridge Road) or from Minnieville Road (turn right onto Old Bridge Road). You will turn left onto Clipper Drive at the Mobil Gas Station.

If you are coming from the direction of Rt 1 or I-95 you will turn right onto Clipper drive at the top of the hill.

Once on Clipper Drive the church will be on your left. You will pass the Office park, some homes and townhouses, then a small fenced-in parking lot on your left. The entrance to the church is marked by a small sign. (If you miss this entrance, don't worry! Simply turn left onto Mariners drive and then left again into the church parking lot.)
Go in the driveway, up the small hill and turn to the right. The entranceway has glass doors and there is a drop-off area. The parking lot is across from the entranceway. Once you are in the church lobby the meeting room is to the right
---

All Content © Copyright 2003-2010 Cabin Branch Quilters Guild
Web Mistress: Dorsey Clement
Last updated November 18, 2005
---