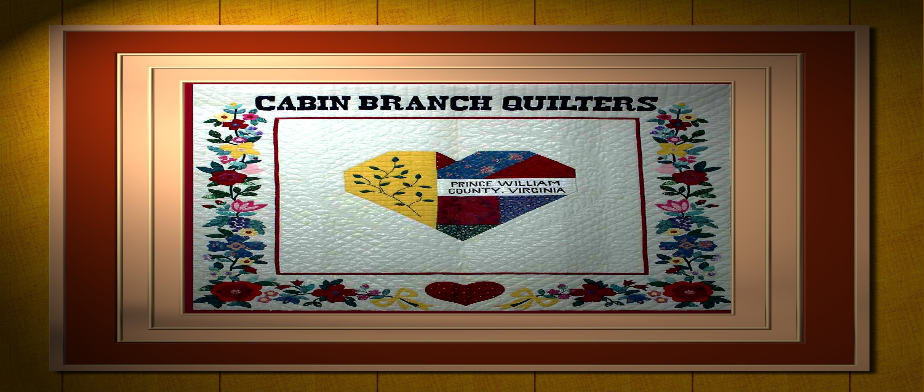 CBQ Home Events & Activities Community Annual Quilt Show News Letter & BOM Quilting Links Contact Us
---
Cabin Branch Quilters
PO Box 1547
Woodbridge, VA 22195
---
Welcome
Anyone interested in the art of quilt making is more than welcome to join Cabin Branch Quilters Guild. We were formed in 1989 to provide a focus for quilting in Prince William county.
Membership offers many opportunities to all levels of quilters, from the beginner to the most advanced. Here are a few benefits for joining Cabin Branch Quilters:
Members can attend general monthly meetings, as well as any special workshops, classes and special interest groups.
Participating in block exchanges and block-of-the-months that give you a sense of camaraderie while completing a quilt for yourself.
Donating your time, fabric and energy to a worthy cause by making a quilt to give to a child in need.
You get the thrill of showing your very own craftsmanship in our annual quilt show.
You have the opportunity to meet and build friendships with people who enjoy quilting as much as you.
Membership Dues
Single Membership $20.00
Family Membership (same household) $25.00
Senior Citizens (age 62 and older) $15.00
New members joining after the June meeting will be assessed membership dues on a pro-rated schedule of $1.66 per month. For example, a member joining in September will be charged for 9 months x $1.66 = $14.94.
Membership Blocks
It's once again time for our guild to make a membership quilt.  Even if you've created a block for a past quilt–please make one for this years quilt.  you'd be surprise how many members think they've made a block for a past quilt, but haven't.  Please click here for a printable pattern and instructions.
To download a printable membership form, please click here.
To download a printable template and directions for the CBQ quilted
nametag, click here.
For more information or to join, please contact Cabin Branch Quilters .
---
About Cabin Branch Quilters…
Cabin Branch Quilters quilting guild was formed in 1989 to provide a focus for quilting in Prince William County, Virginia.
The name CBQ is from the C.B. Mining Company. In the 1800's pyrite was discovered at this site about three miles up Quantico Creek from the Potomac. From its discovery to 1919 the ore was mined by the Cabin Branch Mining Company, and from 1917 to 1929 by the American Agricultural Chemical Company. During its peak years, the mine had three shafts and employed up to 300 workers. Pyrite was mined for the sulfuric acid in the mineral. The Cabin Branch Mine was, for about 31 years, the basis for the economy of nearby Dumfries, which had declined as a port town due to the silting up of the creek. In 1929 when the mine closed there were approximately 70 structures comprising the "company town". Cabin Branch Mine was closed for two reasons – the discovery of a better grade of pyrite in Spain and a workers' strike for higher wages. Since the 1930's the site has been a part of the Prince William Forest Park and is administered by the Department of the Interior.
Through active recruitment and widespread publicity, we have grown to over 200 members and welcome new members who are interested in quilting. We have a wide range of experienced and new quilters which provide for an exciting membership. We meet at the Lake Ridge Baptist Church in Woodbridge the fourth Monday of each month at 7:30 pm. Dues are $25.00 per year, $15.00 for senior citizens and $30.00 for family membership.
CBQ sponsors educational activities including lectures, workshops and demonstrations. A schedule of meetings and activities is listed in the CBQ Monthly Newsletter and can also be found on our Events & Activities page and Newsletter page..
The Guild also serves the community by making Community for the ACTS Turning Point Shelter for abused women and children in Prince William County.
If you would like to visit our next meeting and perhaps consider joining the Guild.
Partially funded by the Prince William County Arts Council
National Quilt Association Chapter 479
---

All Content © Copyright 2003-2010 Cabin Branch Quilters Guild
Web Mistress: Dorsey Clement
Last updated November 18, 2005
---